The Vasari Corridor & its Self-Portrait Collection
Visit the magnificent Vasari Corridor in small groups with an English-speaking guide
Vasari Corridor CLOSED FOR RENOVATIONS UNTIL….?
(no date has been announced)

The Vasari Corridor is a long, raised passageway that connects Palazzo Vecchio in Piazza della Signoria to Palazzo Pitti on the other side of the river Arno. It passes through and along some of Florence's most important landmarks, over the Ponte Vecchio and ends up in the Boboli Gardens.
It is a very unique space, and closed to the general public, making access to it very exclusive. You can visit the Vasari Corridor through a private group tour!
A little bit of history…
The passageway was designed and built in 1564 by Giorgio Vasari (in just 6 months!) to allow Cosimo de' Medici and other Florentine elite to walk safely through the city, from the seat of power in Palazzo Vecchio to their private residence, Palazzo Pitti.
It was at this time that the shops on the Ponte Vecchio – butcher shops until now – we're sent away and jewelers given the space. This way the nobility didn't have bad smells wafting up to them above!
The passageway contains over 1000 paintings, dating from the 17th and 18th centuries, including the largest and very important collection of self-portraits by some of the most famous masters of painting from the 16th to the 20th century, including Filippo Lippi, Rembrandt, Velazquez, Delacroix and Ensor.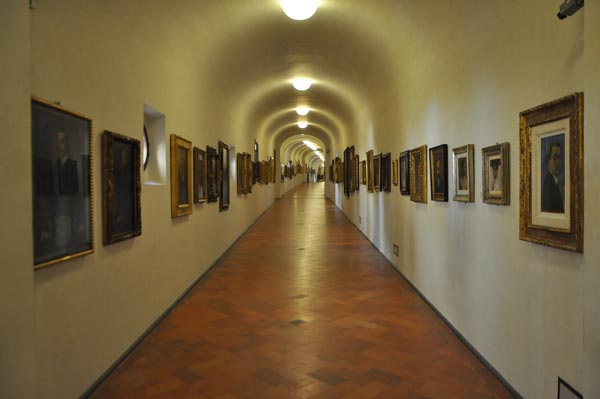 While the first paintings were bought by the Medici family, after the collection started, the family started receiving the paintings as donations from the painters themselves. This has continued over the centuries and there are more paintings in the collection that did not have space to be exposed.
That was the case until September 2013, when the last section of the corridor was renovated and many self-portraits of more contemporary artists are now on display.
Visiting the Vasari Corridor
Currently, the Vasari Corridor is CLOSED FOR RENOVATIONS.
It is scheduled to reopen with a new format, but no date has been announced.