Halls 25-32 reopen at the Uffizi Tomorrow
14
After years of renovations, halls 25 through 32 will finally reopen tomorrow, Tuesday September 15th.
The halls were fully renovated with new air, lighting and security systems as well as restored flooring. The rooms are now dedicated to Florentine art from the late 15th century, with 43 works of art (including one sculpture) and contain skylights in the center of the ceilings.
These rooms held the Medici foundry in the last two decades of the sixteenth century. Before the renovations, the rooms hosted works by 16th century Florentine, Venetian, Emilian and Lombard painters, including the magnificent Tondo Doni by Michelangelo (which is now in Hall 35).
A large part of the renovations were possible thanks to a donation of € 600,000 from Salvatore Ferragamo SpA as the renovations are actually not part of the "New Uffizi" project. These rooms had been been restored after the bombing on Via Georgofili 20 years ago.
The new halls now are dedicated as follows:
Hall 25 – Baldovinetti and Ghirlandaio
Hall 26 – Cosimo Rosselli
Hall 27 – Perugino
Hall 38 – Filippino Lippi and Piero di Cosimo
Hall 29 – Lorenzo di Credi
Hall 30 – Doriforo (sculpture)
Hall 31 – Signorelli and Florence
Hall 32 – Signorelli
Then you enter Hall 33 dedicated to Roman art and Hall 34 to the Garden of San Marco (reopened in 2014) before returning to the main corridor.
The new rooms continue the green color found in other recently restored rooms with artwork from the 15th century, starting in Hall 6 (behind the Incoronation of Lorenzo Monaco) and in hall 7 (behind the Adoration of the Magi by Gentile da Fabriano) and continued in the Mantegna and Bellini hall (hall 20).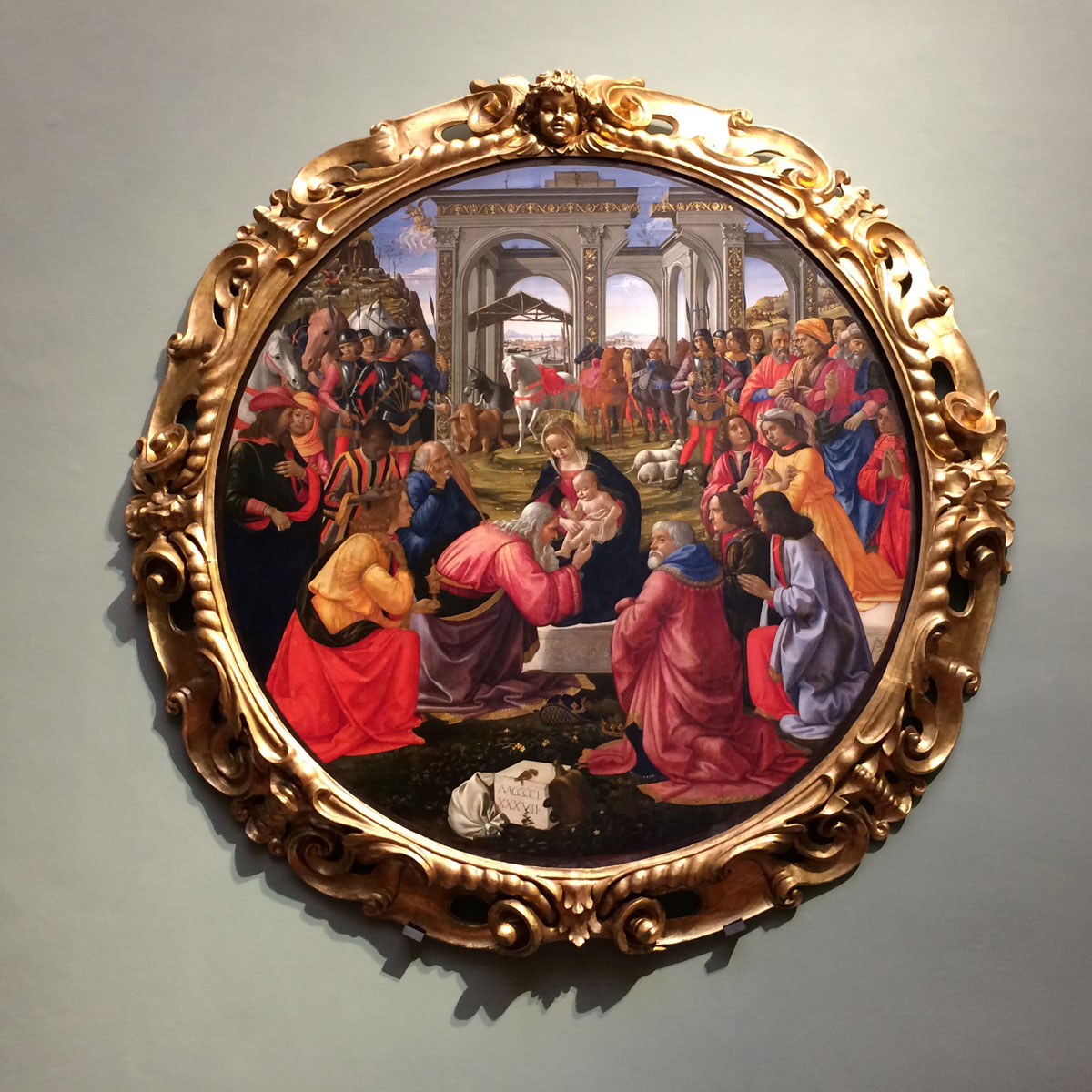 As paintings that were once housed in these rooms have made their way into other halls, the chance presented itself to take 25 works of art from the Uffizi deposits and make them part of the permanent collection, reorganizing the halls to also better present and value works of art that are often overshadowed by others in the great halls of the Uffizi Gallery. Such is the case for Ghirlandaio's "Adoration of the Magi" that now takes over the entire wall where Michelangelo's Tondo Doni used to be and Halls 26 and 29 whose works all come from the deposits from great artists of the late 15th century that have up to now not been highlighted at the museum, often just for lack of space.
Finally – enjoy the view over the rooftop of the Uffizi with view of the Duomo and Palazzo Vecchio from Hall 31!