Palazzo Vecchio: Tickets and Tours
The imposing Palazzo Vecchio overlooking the marvelous Piazza della Signoria is one of the most famous symbols of Florence and is located right next to the Uffizi Gallery, making a visit before or after highly recommended. You can now climb to the very top of the Palazzo Vecchio tower from which you can enjoy a wonderful panoramic view of the city!
Built in the early 1300s, the palace has always been the seat of the local city government. It has been modified and enlarged throughout the centuries, especially during the time that the Medici family ruled over the city.
Cosimo I de' Medici asked his favorite architect Giorgio Vasari to enlarge the palace in the middle of the 1500s, and it was at the this time that the palace became known as the "old palace". The Salone dei Cinquecento is from this period.
Today, Palazzo Vecchio is still home to the mayor and to city government, but it is also a splendid museum that we highly recommend you visit.
The museum offers several splendid tours by which to learn about the city's history, the palace itself and the important figures of the past that shaped the city. You can visit the Monumental Quarters or the Secret Passages hidden within the palace with a guide.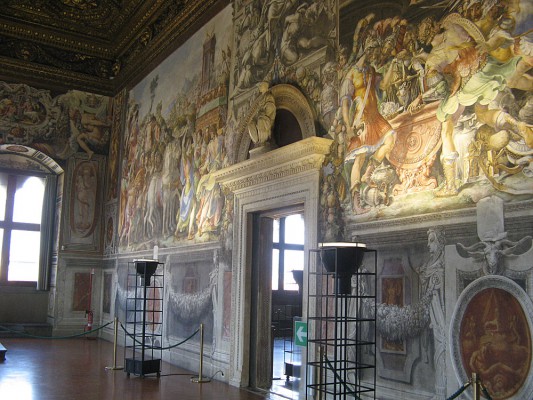 Entering Palazzo Vecchio you'll take a marvelous trip back in time across 7 centuries of history. You will make your way through the museum and include the climb up the Arnolfo tower!
The Michelozzo courtyard, the Salone dei Cinquecento (Hall of the Five Hundred), the Chapel of Eleonora and the splendid Map room are just a few of the spaces you can visit during your tour, and the multimedia guide will illustrate the most important events and details tied to each one of them through photos, virtual historical reconstructions and descriptions.